In-Demand Most Popular Hardwood Floor Colors and Styles
Have you ever walked into a freshly remodelled home? The first thing you notice is the floor. It's the focal point of every room. Your eyes glance on the floor then move to the walls, furniture, and fixtures.
Hardwood floors are known for their timeless charm and are an integral part of any home. Whether you're refinishing or installing brand-new hardwood floors, choose wisely. An out-of-date hardwood floor style can affect your home's value and make it harder to sell.
Unlike clothing fashion that changes with every season, flooring styles have a long cycle, that can last for generations. As an example, have you seen the hexagonal white and black bathroom tiles found in homes of the 1910's and 20's? They are still being used today.
In this article, we'll look at the preferred wood floors features that will help you make the right decision, look amazing and hold your home's value.
There are five areas to consider:
The hardwood floor color
The wood's texture
The type of wood and size
The layout or pattern
Homeowners look for long-lasting, beautiful wood floors that are easy to maintain.
Whether you are a traditionalist or a trendsetter, choose engineered wood features that are currently in demand, that suits your taste and budget.
Popular Hardwood Floor Color
The latest color preferences go in opposite directions, very dark or very light and natural. One floor color choice that homeowners shy away from are the reddish tones that were favorite a decade or two ago. It's hard to match paint and furnishings unless you like strong and striking colors.
"We built our house back in 2006 and installed Brazilian Cherry floors. 10 years later, I really hate the red in the floors and prefer a neutral brown, and the Brazilian cherry floors are no longer popular." – A homeowner on a flooring forum
Dark Hardwood Floor Stain Colors
Like a sexy black dress, dark and solid hardwood flooring looks elegant especially against contrasting white walls, furniture, and a light accent rug.
Modern, minimalist homes with an abundance of light are using more dark hardwood floor stain colors like ebony, espresso or even black.
While trendy, black can be difficult to maintain as it shows every scratch and speck of dust. It's best to reserve this color for low traffic areas (no kids or pets).
On the lighter end, homeowners choose one of three floor color directions, natural wood, light grey or white-washed, bleached wood.
Natural, Honey or Blonde
When it comes to natural wood, white oak flooring is an excellent choice. Unlike red oak, nut or fruit woods, white oak does not vary in color throughout the board. With only a few coats of protection from polyurethane, the light, honey-colored white oak wood brightens any room. The neutral color gives unlimited decorating options, fits any décor, and creates a warm, comfortable home.
The lighter shade helps hide dirt and dust, making it a favorite choice in busy homes. However, not everyone appreciates the yellow tones of natural wood. If that's you, grey and white are two options that have become a rising trend.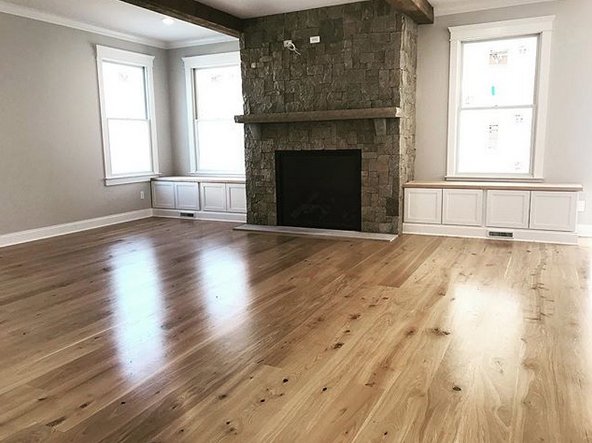 Grey Hardwood Floor
Grey floors add a light elegance to a home. Grey stains mask any yellow tones found in natural wood, allowing for more decorating options. The floor color choice has been trending up since the beginning of the decade.
"I noticed the trend and demand for grey hardwood floors around 2010 or 2011.  First, I really only saw this in pre-finished (or factory-made wood), and it wasn't until 2012 or so when I started to get lots of local customers to ask us to refinish their existing floors and turn them gray." - Debbie Gartner, TheFlooringGirl.com

White Washed or Bleached Wood Floors
To achieve a "beachy" look and surfer's paradise feel, go with a whitewashed floor. It's one trend in floor color that has spread from beachfront properties to homes in any location. Bleached wood lends itself to casual interior design and finished basement to add a light and airy feel. It's also an excellent choice for both modern and farmhouse kitchens.
Whitewashed wood floors typically simulate the appearance of natural wear like that of a seaside boardwalk. The wood grains show through providing a comfortable yet upscale contemporary feel.
High Color Variation Flooring
Wood in all its natural beauty comes with a variety of color options, even from the same tree. One trend is to take advantage of this by mixing dark and light boards throughout the room.
This can be a challenge for decorating because there is an inconsistent color. However, it will give a unique and artistic look due to the many natural characteristics of the wood.
Lighter floors are usually more forgiving than dark hardwood floors when it comes to maintenance. Choose a hardwood floor color that fits your taste and lifestyle.
Which Sought-After Finish Is Best for You?
"Currently the most popular & stylish sheen is a satin finish. Satin finish has some sheen but doesn't look too glossy. It gives the room both a classic and contemporary feel." Larchmont Patch News
Floor finishes come in various sheens from high-gloss on one side of the spectrum to matte on the other. The determining factor is something called "Luster Level." It's the amount of light reflected off the floor's surface at a 60⁰ angle. The more reflection, the higher the luster level.
The Difference Between High-Gloss and Semi-Gloss
When you look at a new bowling alley or a gymnasium floor, they shine like glass. That is a high-gloss polyurethane finish. And, just like glass, it looks great when it's clean, but quickly shows every scratch and footprint.
Semi-gloss, while still offering a nice shine, is less reflective than high-gloss. Glossy finishes mean high maintenance due to more cleaning and polishing to keep up their appearance. Also, in areas with lots of light, the glare can be annoying. High-gloss has a 70% luster rating while semi-gloss runs about 55%.
Satin Finish
Lower sheen finishes offer a different look and less maintenance. Satin provides a soft, warm glow. The luster level is about 40% or half that of high-gloss. It still makes a clean look for the entire floor without highlighting dust and scratches. It's a forgiving finish that makes it the most popular choice for new floors.
Matte is Flat
Matte finishes have the lowest luster at 25%. While matte offers minimal reflection, it displays fewer scratches than the high-gloss floors. It is about showing off the grain and highlighting the woods natural appearance.
Whichever type of hardwood floor finishes you choose the idea is to protect the wood and tie the floor together making a more uniform surface that is easy to keep clean.
Matte, Satin, Semi Gloss and Gloss
Why Texture Is Gaining Popularity
A smooth finish may not be trendy, but it will never go out of style. Whether sanded, stained, or finished, most homeowners like their hardwood floors smooth. It is easy to clean and feels good under bare feet. Smooth floors have been the most popular surface for centuries, and always a safe choice.
For some decor, textures provide a new modern flooring look and feel. Here is an overview of the wood floor textures currently in the market.
Distressed Wood Flooring
Like a favorite pair of ten-year-old jeans, distressed, or antiqued flooring, give any space a comfortable, warm and cozy feeling. Distressed floors require less maintenance, and are suitable for families with lots of traffic from pets and kids.
Distressed wood is the perfect choice if you're looking for a lot of character, and an authentic rustic wood flooring looks and feel. The manufacturer will add features such as aging, sculpting and other techniques to make the board look aged and worn.
You'll see decorators matching the distressed wood in homes with brick walls, stacked stone, and old farmhouse-style kitchens.
Hand Scraped
Before there were power tools, all tools were human powered. Craftsman would hand scrape floors to smooth out rough edges and high spots. The vintage look is the latest trend for homes desiring a rustic wood flooring.
The highly textured surface hides a myriad of scratches and dents. It's the texture of choice for homeowners who have large breed dogs but still want the warmth of hardwood floors. You'll find hand scraped solid hardwood flooring in high-end homes and commercial buildings.
Manufacturers use machines to simulate hand scraping, but most hardwood floor installers can do the process on site, as shown in this video. They wet the wood and use a metal scraper to scrape out wood shavings in the direction of the grain. The effect is like small ripples in a pond, making each board unique.


Wire Brushed Floors
Wire brushing is a technique that simulates the natural wear of the floor. The result is that you get a vintage looking floor that's easy to maintain. Unlike sanding, the wire brush process enhances the wood grain rather than smoothing it. The bristles pull out the softer wood leaving, the harder, smother growth ring.
It's not as textured or wavy like hand scraped solid hardwood flooring, but it does leave a noticeable texture that helps camouflage wear and dirt. It's an excellent choice for wood floors in kitchens.
Because it's labor-intensive, most manufacturers use machines at the factory to pre-finish the boards. To get a good explanation of the process watch this video about wire brushed floors.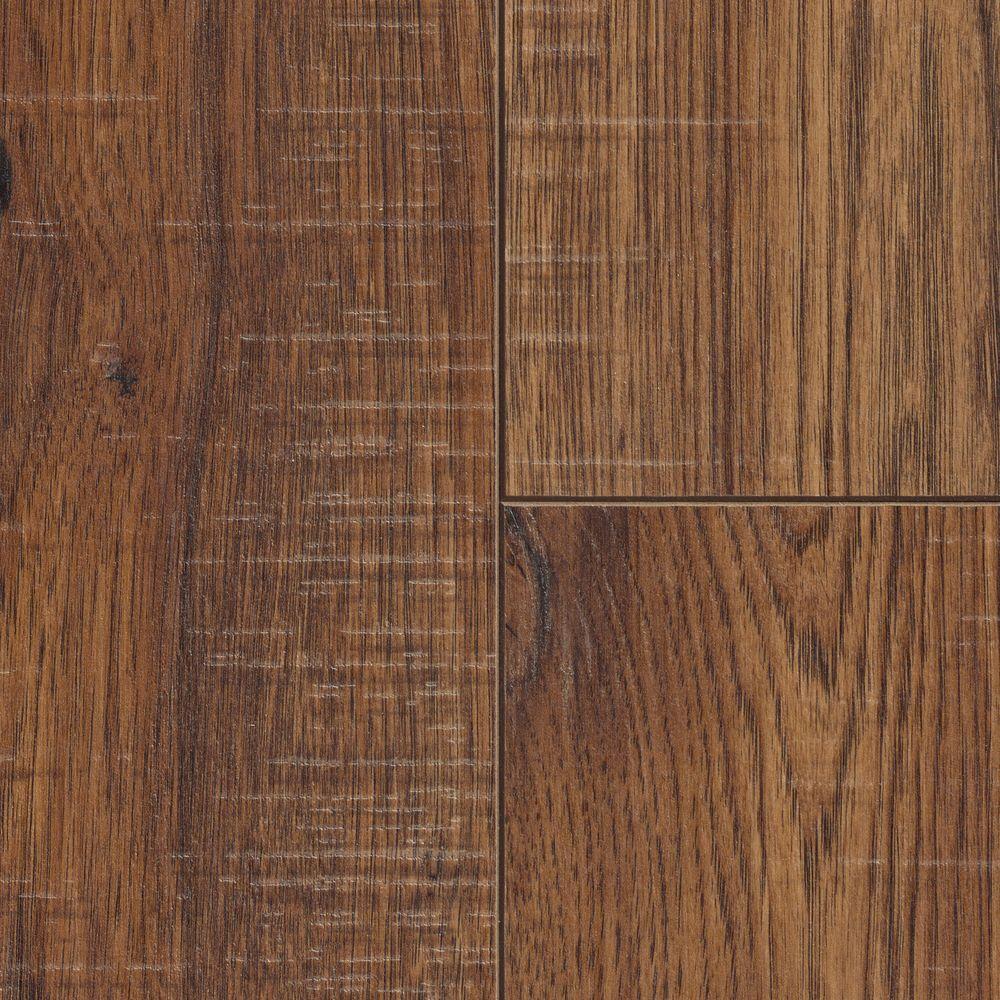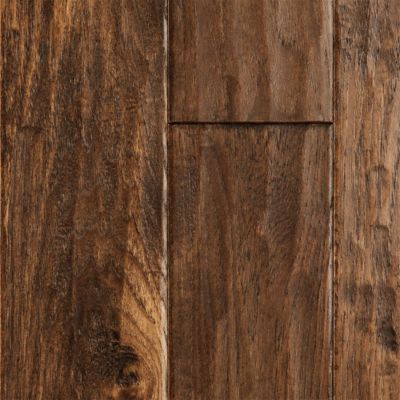 Using Reclaimed Wood
Reclaimed wood flooring, as the name implies, comes from salvaging lumber from older buildings. While adding charm and character to your floor, homeowners will also benefit from the patina of the old wood. Once it's sanded smooth, it will still have nail holes, knots, and gouges from years of wear.
It's eco-friendly flooring because it is an alternative to newly sourced wood. Reclaimed wood flooring is not uniform and will install like a jigsaw puzzle. The variations can add to the appeal and uniqueness of the floor.
Sources can be flooring removed from a previous job to recycled pallet wood. It depends on your budget and time. However, installing it can take double the time as a prefinished new hardwood floor. Here is an example of installing a reclaimed redwood floor from 1848.
Preferred Types of Wood and Board Size
Back when settlers had unlimited lumber, and the trees were huge, they cut wide plank for floors to save time. Today, we no longer have the same unlimited resources, but we still have the same taste in the wide width of the planks. The 2 ¼ to 3 ½ inch wide boards in homes from the 40's to the 80's are considered outdated.
In the last decade, homeowners prefer planks that are 5 inches or wider, it looks more elegant and upscale. Wide plank flooring can make your room feel less busy and more open due to fewer visible joints on the floor.
The type of wood has always been important. Oak, especially white oak, is one of the most common wood species used for floors in North America. It's beautiful, sustainable, and durable.
Other popular wood species include maple, hickory, cherry, ash, mahogany, and walnut. However, these species can be quite pricey.
The Desirability of Different Layouts and Patterns
Once a design trend of the 30's through the 80's, parquet floors have quickly become a distant memory. These floors are crisscrossed patterns of wood strips that resembled tiles. The common flooring issues with these types of floors are loose blocks, scratches, and gaps. You can still see them in old European Palaces, older homes, apartments, and commercial buildings.
However, chevrons and herringbone patterns using larger boards can elevate the look of the room. The difference between the two are the ends. In a herringbone style, the ends overlap at a 90⁰ angle. To make chevron patterns, the ends are cut and fitted together to make a point.
Home designers usually reserve these patterns for formal living and dining areas.
Another smaller trend is mixed width hardwood flooring. It resembles older farmhouses when builders had to use what they could find. Floors with varying widths provide extra detail and break up the regimented lines of a room. It makes an interesting contrast to the modern design.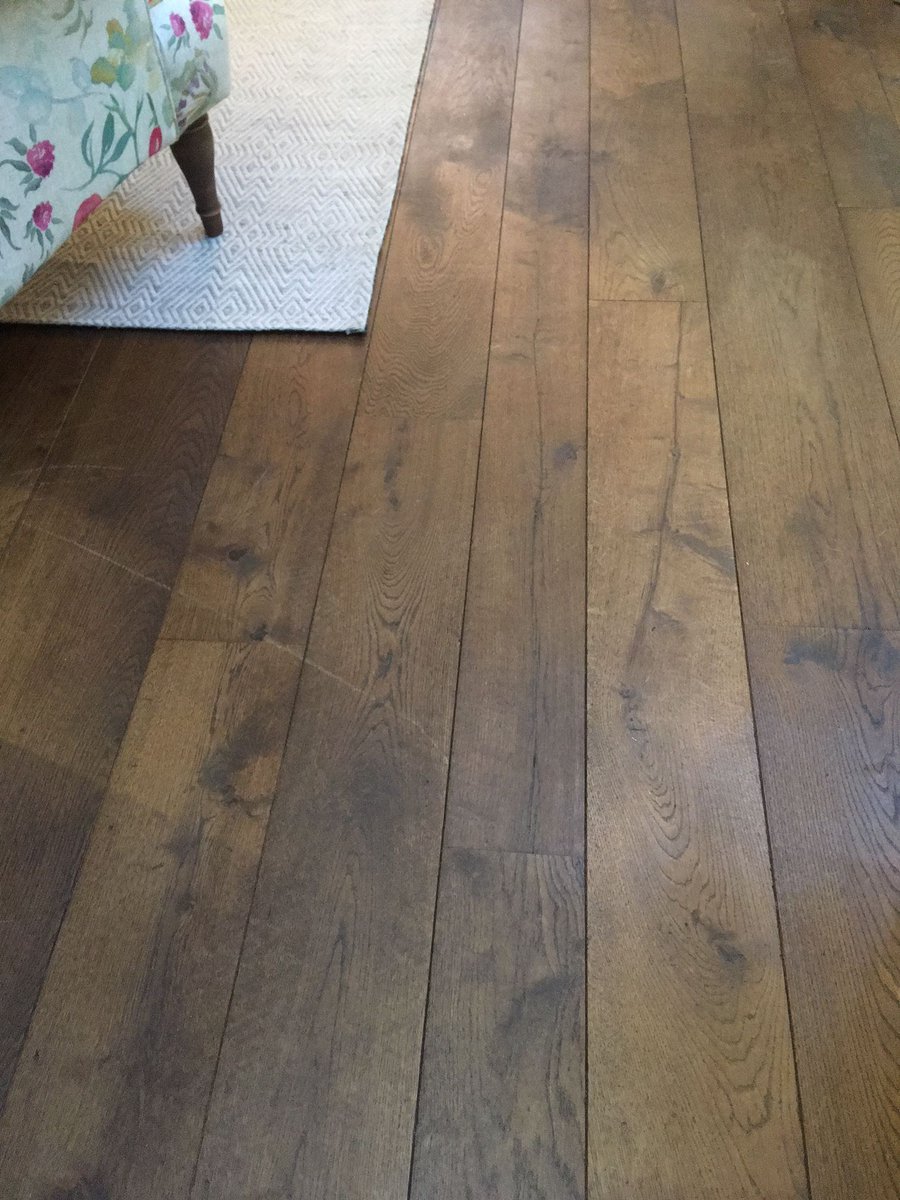 Diagonal flooring is an option that adds another dimension to a hall or room. Instead of laying the floor parallel to a long wall, diagonal flooring installs at 45⁰. It costs more in labor and material but makes any space look ultra-modern and sophisticated. Diagonal floors will always look good in any era.
You can't go wrong with a clean design using straight lines and no pattern. It will always stay in style, saving time and money.
Should You Follow the Latest Hardwood Flooring Trends?
Flooring trends evolve over time. If you're considering laying a new engineered wood floor, follow the consumer's demand. Chances are you'll find better inventory at a reasonable price for the choices you want. Your home floor will look beautiful and will hold its value.
"Houses with hardwood flooring are easier to sell, sell for more money, and sell faster." - National Wood Flooring Association
Here is a summary plus a few things to keep in mind when deciding on your flooring and color options.
What's in:
Very dark or very light wood floor color
Textures work well for high traffic floors
Satin and matte finishes are desirable due to lower maintenance
Oak is always in demand
Wide boards are desirable
Patterns will accent your home and make any room pop
What's out:
Old style homes parquet floors
Stains or wood with reddish tones
High-gloss or semi-gloss finishes are too high maintenance
If you are choosing a new floor, select something durable and likely to stay in style the lifetime of your home. A solid hardwood floor made from white oak that is 5 inches wide will last a lifetime and look good in any room.
At Easiklip, we specialize in this type of hardwood floor. And, it's the easiest to install for DIYers or contractors. Learn more and order a free sample pack at Easiklip.com.
Vacuuming Hardwood Floors
As a final note, since solid hardwood floors require light cleaning frequently, we thought we'd share a great resource guide on vacuuming hardwood floors. It contains:
Objective testing data for all vacuums
The 7 best vacuums on hardwoods (out of the 100+ tested)
6 Frequently Asked Questions
Tips for how to get the most out of your vacuum on hardwoods
If you find this article informative or know somebody who can benefit from it, please share.
As an Amazon Associate, Easiklip Floors earns from qualifying purchases. This helps us provide more great blog content. Thank you for your support.